Geriatric Patients
GlideTrak™provides what older patients need the most: Safe exercise and gait training that is gentle on sensitive joints. With GlideTrak™ patients are free to enjoy faster walking and longer duration exercise beyond their limitations.
Top
GLIDETRAK: THE UNWEIGHTING SOLUTION

With aging, our exercise options become more limited. For many people, low-impact exercise is not sufficiently pain free, functional or supportive. GlideTrak™ advances patients beyond low impact therapy to create a virtually unweighted walking, running and gait training experience. With GlideTrak™, exercise and upright mobility are available to many more people, even those who never expected to walk or run again!
SAFE TREADMILL ACCESS FOR SENIORS

Unique seat support and shoulder/chest harness make treadmill exercise and gait training accessible to seniors who would otherwise not feel safe on a treadmill
Easier on upper extremities and more secure than gait training in parallel bars or a walker
Treadmill exercise becomes safe at any desired intensity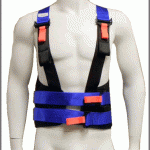 SAFETY FEATURES
Shoulder arrest harness or optional full balance harness provides safety and stability while walking or jogging and eliminates fear of falling while upright
BEYOND LOW IMPACT THERAPY

Patients simply reduce weight bearing until pain free exercise is achieved
Greatly reduces stress on sensitive tissues and joints
GlideTrak™ is a perfect alternative for those who experience pain from cycling and elliptical training or those limited to walking only on regular treadmills
EXERCISE ENHANCEMENT

Regardless of age, injury or mobility limitations, many patients can now experience greatly enhanced gait and exercise ability on the GlideTrak™
With GlideTrak™ Body Unweighting, patients can exercise faster, longer and reach new aerobic exercise levels
MAXIMUM MOTION (Including Hip Extension)

GlideTrak™ helps patients achieve full range of motion at the hip, knee and ankle similar to running and walking
This extended motion is greater than on other exercise machines and is a key element of optimal function
Look closely and you will see that as the pelvic pad stabilizes the ilium from the front, each step results in the hip being maximally extended, similar to a stretch in the Thomas Test Position.  This extra hip extension is a bonus not achieved on other exercise machines.
BOOSTS BALANCE AND CONFIDENCE
Challenges core and back muscles similar to exercising on a therapy ball
Important for reducing fall risk and improving confidence
TARGETS HARD TO STRENGTHEN MUSCLE GROUPS

Includes the legs, core and postural muscles which is the goal of many boomer and senior exercise programs
FUNCTIONAL IMPROVEMENTS
When patients are able to exercise faster than the limitations of their pathologies, they often see improvements that carry over into functional activities and gait
Neurological patients have greatly improved gait speed and smoothness and have reduced foot drop, hip circumduction and trunk rigidity
Orthopedic patients may normalize gait and running motion sooner when unweighted
Patients benefit from active recovery with safely increased exercise volumes and decreased disuse when unweighted
FUN FACTOR
"It's like walking and running on the moon!"
Ask GlideTrak™ users and they will tell you that GlideTrak™ Exercise and Therapy are truly Fun!