Having a serious neurological issue that affects mobility and balance like Parkinson's Disease or Stroke takes a lot from clients , not the least of which is their strength, endurance, independence and quality of life. Frustration sets in because there seem to be limited options to help.
The good news is that there is a safe, effective, safe, and proven way for improvement in mobility and fitness after a Stroke. The solution is Body Weight Support Training on GlideTrak!
The research on stroke recovery is clear; frequent, extended, intense practice of proper gait is necessary to induce the creation of new neural pathways in the brain required to improve gait and mobility. It is also critical to exercise and build stamina. All of which conspires with good diet to prevent a second stroke.
This kind of practice is not effective in a pool because of buoyancy, water resistance, and impossible therapist gait element correction correction. Practice with a cane or walker is safer, but reinforce compensatory patterns and slow speeds.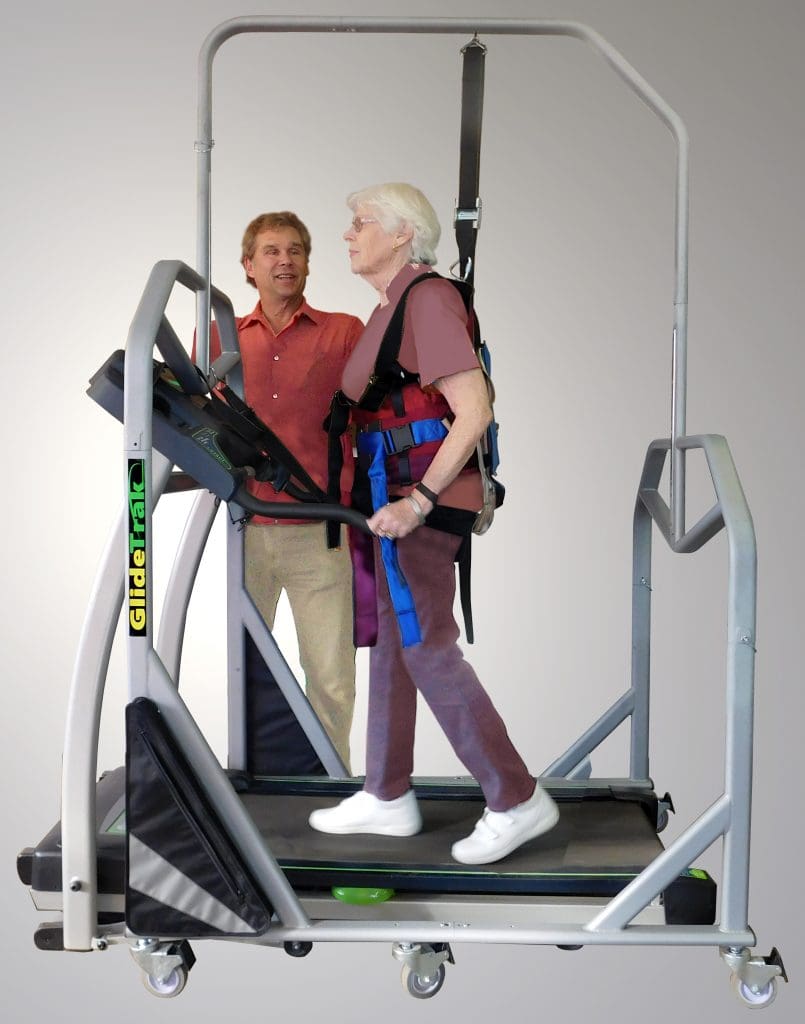 GlideTrak's innovative pelvic saddle prevents falls and fully supports the body in a way that allows for exactly fast, safe task specific gait practice in your clinic. Manual intervention for targeting training for drop foot or circumduction, for example, while encouraging upper body engagement and coordination is easy.
After unweighted practice, it is most helpful to practice client's best gait on the treadmill safely in our standard body harness (see photo). This allows for the important embedding and new functional gains in their most naturalized gait–safely. See why University of California likes the GlideTrak for the rehab of their stroke patients HERE: – UCSF PT Wellness Center – GlideTrak.
.
Take the case of Maria, for example.
Stroke Recovery With GlideTrak – Maria
Maria had a stroke 2 years ago. After 16 weeks, Maria's physical therapy sessions were over but she was still walking slowly, with short, steps and some drop foot. She was very unsteady on her feet and had little endurance since she was just unable to exercise. Maria began to lose hope that she would regain her mobility. Then Maria found out about GlideTrak.
In less than one month of GlideTrak Gait Training Twice per week as part of a Doctoral Study, Maria began to regain her lost mobility, balance, flexibility and endurance. She is more now more confident when she walks and she feels so much better about herself and her prognosis. Check out her video below to see how Body Weight Support training on GlideTrak has helped put her recovery back on track.
Maria's story is inspiring but it is not unique!! GlideTrak for walking practice, fall free exercise, and gait training is increasingly found in private practice clinics and hospital outpatient centers around the world. It is affordable, effective, and can offer your patients the cutting edge of advanced Body Weight Support Treadmill Training. We would love the opportunity to help you. To learn more about GlideTrak and to receive a personal evaluation to see if GlideTrak Body Unweighting Systems are a good fit for your business, please email or give us a call at 619-782-0903.