Physical Therapy
GlideTrak™ was designed to meet requests from Doctors and Physical Therapists to bring the benefits of cost-effective, Body Weight Support Treadmill Training (BWSTT) to Orthopedic and Neurologic patients.  GlideTrak's™ simple pelvic suspension design does away with uncomfortable and limiting harness systems and ultra-expensive air bag unweighting. Because of its simple efficacy GlideTrak™ truly makes BWSTT accessible to every business, large or small. It is so affordable and effective that it is also doctor recommended for in-home therapy and training.
The New Standard in Body Unweighting Technology
With aging, our exercise options become more limited. For many people, low impact exercise is not sufficiently pain free, functional or supportive. Glidetrak™ advances patients beyond low impact therapyto create a virtually unweighted walking, running and gait training experience.
GlideTrak™ Advantages for Therapy
         Meets Doctor's Orders: Touch Down, Partial or Weight Bearing as Tolerated
         Unique Technology: The only BWSTT system allowing partial to full unweighting
         Versatility and Usefulness: GlideTrak™ can be used by nearly all patients
          Pain Free Exercise: Safely train with injuries and painful conditions, impact free
          Full Range of Leg Motion: More than other exercise machines in clinics
          Key Muscle Groups Engaged: More completely than "low-impact" machines
          High Level Aerobic Fitness: Maintained even while recovering from injury
          Enhanced Neurological Recovery: Motor control, gait speed and smoothness
          Early PT Intervention: Begin safe weight bearing and gait training earlier
          Accelerated Recovery: Increases safe exercise volume and minimizes disuse
          Works Core and Postural Muscles: More than seated or closed chain machines
          Safety Harness: Allows patients, including balance impaired, to exercise safely
          Functional Exercise: Upright, vertical exercise carries over to waking on ground
          Fun and Motivating Exercise: A powerful rehabilitation and fitness tool
One Solution: A Multitude of Applications
Almost everyone, regardless of age, injury or disability, can experience greatly enhanced mobility and exercise on the GlideTrak™.  Applications include:
GlideTrak's  unique, comfortable suspension system is the first of its kind and provides all of the body support necessary to remove harmful joint impact. Your patients can now enjoy safe, pain-free walking or running exercise beyond their limitations.

Pre and post-operative conditions
Orthopedic injuries and fractures
Sports injuries
Arthritis and painful knees, hips, ankles, backs and necks…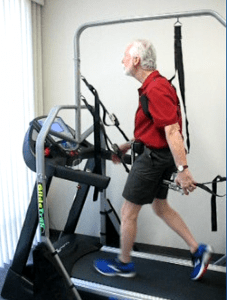 The results of Body Weight Support Treadmill Training have been profound in patients with neurological conditions.  GlideTrak™offers an effective, convenient and affordable way to bring these benefits to your patients:
Important gait corrections
Increased gait speed and smoothness
Effective exercise
Enhanced neurological recovery…
Neurological     The ability to tap into the plasticity of the brain and encourage motor learning is the key to any neurological rehabilitation program. The GlideTrak's unique unweighting technology  enables neurological patients to work longer and more comfortably.  The key is training without weight to move rapidly and as correctly as possible without the burdens of gravity reinforcing compensatory behaviors that can actually inhibit functional recovery.  After some practice unweighted in the pelvic support system, walking practice with the balance or safety harness will embed functional gains through practice.
The brain rewires itself, explains Jeffrey Kleim, an associate professor of biomedical engineering at Arizona State University who studies what happens to the brain after injury."  And it does this by forming new synapses, forming new connections," says Kleim. "The neural circuits begin to change and adapt, and that's how these new functions begin to emerge in the remaining brain areas."
It is best to train as long as possible at least once in the morning and once at night.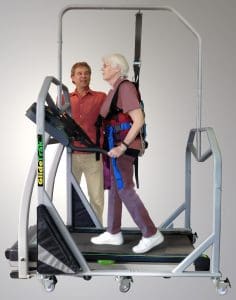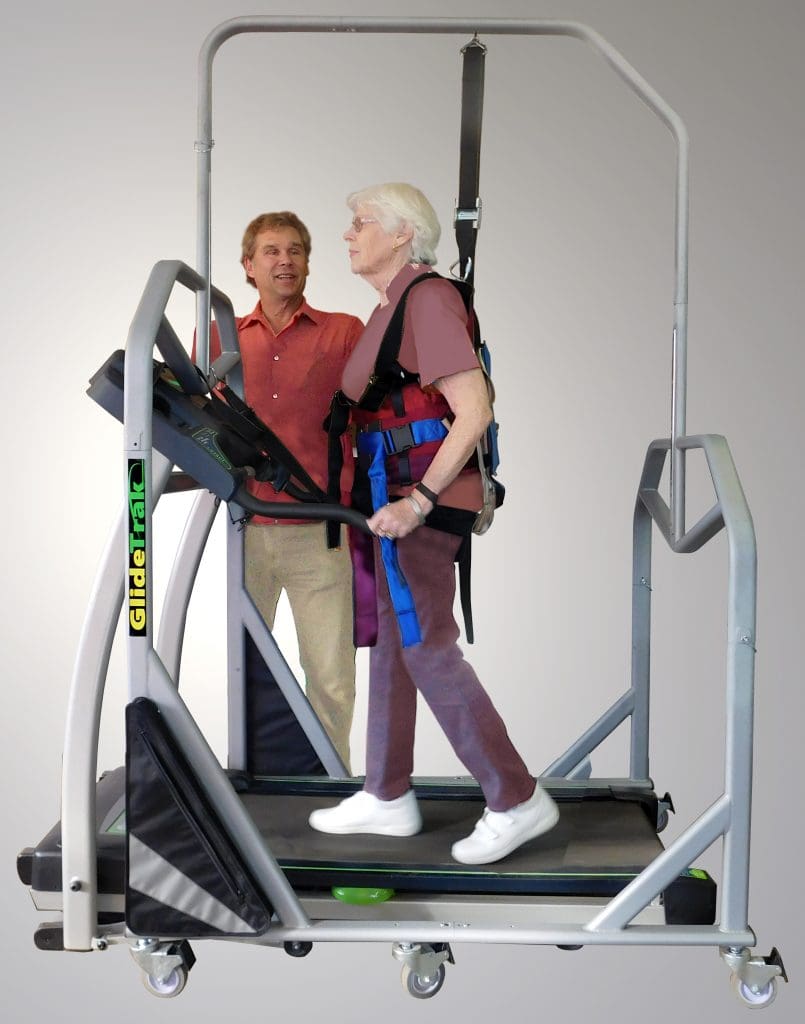 GlideTrak™ provides what many older patients need the most:  Exercise that is very gentle on the joints and safe, thanks to the added bonus of a shoulder safety harness.  GlideTrak™also offers important advantages not achieved on low impact exercise machines:
Functional, upright exercise
Full recruitment of key muscle groups including core and postural muscles
Full ROM not achieved on seated machines, steppers, stationary bicycles, elliptical trainers…
Join hundreds of professional sports teams, elite training centers, competitive runners and top physical therapy clinics who rely on Body Unweighted Training as an essential part of their programs and let GlideTrak™help your athletes gain a competitive advantage like never before.
Speed up recovery from sports injuries
Maintain top fitness levels during injury and recovery
Train harder, faster and longer without injury
Enhance speed, stride length, power and fitness
Train smart with more cross training and recovery workouts
Get more performance and conditioning out of larger athletes…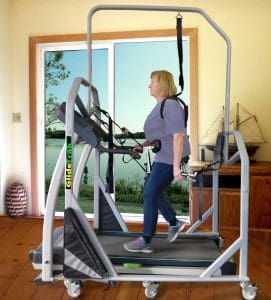 GlideTrak™makes it possible for patients up to 350lbs to exercise without limitations and has proven to be an empowering and motivating weight loss tool…
Makes it possible for overweight individuals to walk and run.
First form of exercise for many that is not limited by pain, insufficient range of motion or low exercise tolerance.
GlideTrak™ offers truly exciting, Body Unweighted mobility and exercise for Adaptive Sports, Recreation, PE and School Therapy programs. Until now, it has often been difficult for…..