Sports Training
Gain the Competitive Edge with GlideTrak™ Body Unweighted Training

Glidetrak™ is built for performance enhancement–especially for athletes involved in running sports and cycling.
Glidetrak™ trains the muscle groups that are most neglected by the limited range and repetitive motion of bicycling.
Glidetrak™ is the closest training motion to actual running ever developed for competitive and recreational athletes.
Glidetrak™ training eliminates joint impact damage and fatigue allowing superspeed, high cardio recovery day workouts and works  rear muscle groups hard.
Glidetrak™ Overspeed Training  is far more effective than other methods (towing). Overspeed Training is proven to increase sprint speeds.
Glidetrak™ Stride Lengthening allows rapid gait extension stride and frequency practice and lengthens stride faster than plyos, stretching, and avoids the impact of downhill overstride running.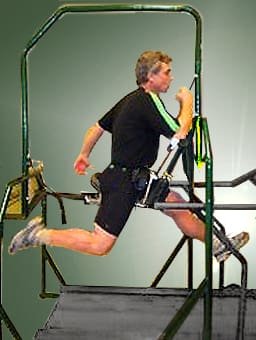 PERFORMANCE ENHANCEMENT APPLICATIONS
Stride lengthening and enhancement
Power training with brake resistance (explosive starts)
Speed training
High knee running
Reciprocal bounding (long jump approaches)
Double leg bounding
Single leg training
Excellent Cross-Training for Cyclists and Runners
Accelerate your athletes recovery times with GlideTrak™ Body Unweighted Differential Training and Progressive Weight Bearing
Learn about accelerating  Overspeed Training, Stride Lengthening, Speed Training and general conditioning on GlideTrak™
Great athletes are rare and expensive….learn how you can condition and improve athletes from 250 to 350 pounds and more…
Wide applications to recreational therapy and adaptive sports programs.