Senior Fitness

"If exercise could be packed into a pill, it would undoubtedly become the most widely prescribed of all pills."
The American Heart Association recommends a minimum of 2.5 hours of moderate aerobic exercise each week for people over 65 years old for: Lowering the incidence of cardiovascular problems, controlling diabetes, maintaining healthy cholesterol levels, controlling osteoporosis, managing arthritis pain, decreasing the risk of falling, preventing memory loss and alleviating symptoms of depression.
But how can we exercise fast and long enough with joint pain, excess weight, or mobility limitations?

GlideTrak™provides what seniors need the most: Safe exercise and gait training that is gentle on sensitive joints.
With aging, our exercise options become more limited. For many people, low-impact exercise is not sufficiently pain free, functional or supportive. GlideTrak™ advances us beyond low impact exercise for a virtually unweighted walking or running experience. With GlideTrak™, effective exercise is available to many more people, even those who never expected to walk or run again!
BETTER ACCESS TO TREADMILLS

Go ahead, use that treadmill now safely
Walk or run as fast as you wish, safely and confidently
Unique seat support and shoulder/chest harness make treadmill exercise  accessible to people who would otherwise not feel safe on a treadmill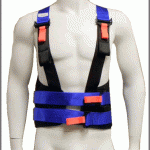 SAFETY FEATURES
Shoulder arrest harness or optional full balance harness provides safety and stability while walking or jogging and eliminates fear of falling while upright
BEYOND LOW IMPACT EXERCISE

Simple strap adjustments reduce weight bearing until pain free exercise is achieved
Greatly reduces stress on sensitive tissues and joints
GlideTrak™ is a perfect alternative for those who experience pain from cycling and elliptical training or those limited to walking only on regular treadmills
EXERCISE ENHANCEMENT

Regardless of age, injury or mobility limitations, many people can now experience greatly enhanced walking and exercise ability on the GlideTrak™
With GlideTrak™ Body Unweighting, enjoy exercising faster and longer
GlideTrak™ Body Unweighting makes better aerobic workouts available and new fitness goals achievable
MAXIMUM MOTION
GlideTrak™ allows a full range of motion at the hip, knee and ankle similar to running and walking
This extended motion is greater than on other exercise machines and is a key element of optimal function
BOOST BALANCE AND CONFIDENCE
Challenges core and back muscles similar to exercising on a therapy ball
Important for reducing fall risk and improving confidence
TARGETS HARD TO STRENGTHEN MUSCLE GROUPS

Includes the legs, core and postural muscles which is the goal of many boomer and senior exercise programs
FUNCTIONAL IMPROVEMENTS
Exercising at a reduced body weight can allow us to move faster than normal and lead to improvements that carry over into daily function and walking ability, especially for those with mobility challenges
Numerous people with neurological conditions, such as stroke, Parkinson's, Multiple Sclerosis, etc… have greatly improved gait speed and smoothness and have reduced foot drop, hip circumduction and trunk rigidity using GlideTrak™ Body Support Unweighted Treadmill Training
Those recovering from injuries or surgeries may normalize walking and running motion sooner when unweighted
Others benefit from safely increased exercise volumes and decreased disuse when unweighted
FUN FACTOR
"It's like walking and running on the moon!"
Ask GlideTrak™ users and they will tell you that GlideTrak™ Exercise and Therapy are truly Fun!