Quick GlideTrak™ Dismount

1. Stop treadmill.
2. Have client hold onto handrails and rise up on toes (if able).
3. Stand behind the GlideTrak™, unhook the SAFETY STRAP, and release the REAR LOWER STRAP (as shown). Remove the REAR HOOK and push the SEAT down and forward through the client's legs.
NOTE: If client cannot rise up on toes, elevate treadmill incline to decrease tension on straps. Then  release REAR LOWER STRAP. You may want to lower the treadmill afterward for the client to step down.
4. Remove SHOULDER SAFETY HARNESS and assist client off treadmill.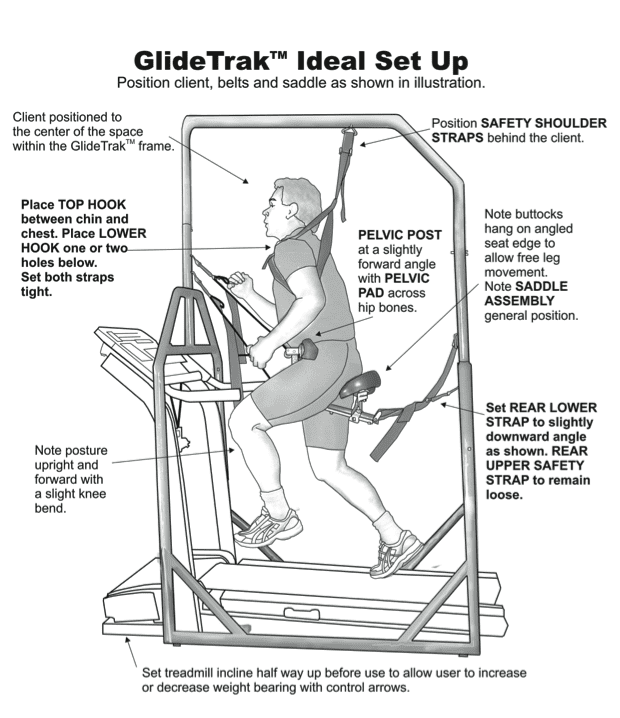 GlideTrak™ Tips
1. Time Saver:
Be sure to document SEAT number, and letter settings, and hook positions for EACH client to easily reproduce the next treatment.
2. A good SEAT fit is indicated by the PELVIC PAD resting squarely across the ASIS (hip bones) just above the crease of the hip and well below the belly button.
3. SEAT BAR tilting into client's leg:
a)     Check to be sure the client is centered in the SEAT. If not, readjust, making sure it is centered to the intergluteal cleft.
b)     Check that the SEAT is not too snug which can make it harder to center.
c)     If a centered SEAT persists tilting left or right, hitting the client's leg, press the higher side of the PELVIC PAD down to realign the PELVIC POST to vertical and hold.  Assist the client to repeat this process as needed until their core automatically learns to center the SEAT BAR (may take 1 or more treatments).  Encourage them to shift their focus to the sensation of unweighted movement and their body will naturally master correct position. Keep their eyes looking up and forward and their posture natural.
4. Be sure to give the client realistic expectations:
a)     For the value of GlideTrak™ Body Weight Supported Treadmill Training as a therapeutic exercise for their specific condition.
b)     For what will be accomplished in their first "orientation session." Remind them that some patience and training will be necessary to achieve the most from subsequent sessions.