Features-Specs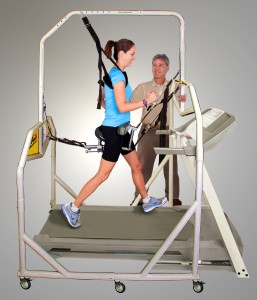 The New Standard in Body Unweighted Therapy:
GlideTrak is proud to offer the most comprehensive, versatile and affordable
Body Unweighted Treadmill Training for your patients. GlideTrak's™ unique,
comfortable suspension system is the first of its kind and provides all of the body
support necessary to remove harmful joint impact. Your patients can now enjoy
safe, pain-free walking or running exercise beyond their limitations.
Features
 Easily convert YOUR treadmill to a Body Unweighted System Now
 Saddle assembly removable for regular treadmill use
 Patented suspension seating concept progressively lifts patients by the pelvis without pressure to sensitive perineal tissues
 Simple strap adjustments allow desired amount of unweighting from non to full weight bearing
 Safe, secure exercise with optional shoulder stabilizing strap
 Effective upright mobility, gait training and the ability to walk or run again
 Ability to walk within frame over a floor or treadmill
 Extends joints fully and allows motion gains not achieved on other exercise machines
 Earlier weight bearing and safe gait training for accelerated recovery
 Patients are able to progress to lifelong exercise at home on their own GlideTrak™ or GlideCycle™
 The most affordable Body Unweighted Treadmill Training System Available
Specifications
Weight in Box 98 Pounds: Includes Frame, Saddle, Straps, Packaging
(Box: 44" X 37" X 10")
Dimensions 89" height X 42.5" width X 52" length (front to back)
Weight bearing Non Weight Bearing to Full Weight Bearing
Frame Material 4130 Chromoly
Finish Powder Coating, White, Silver, Green
Assembly Easily Snaps Together in 8 Pieces Within Minutes
Saddle Assembly Removable for Regular Treadmill Use
Ratchet System Easy Raising and Lowering of Patients
Safety Shoulder Stabilizing Strap
Weight Range Up to 350 Pounds
Call: 541-292-7520 www.glidecycle.com
P.O. Box 3532 Ashland, Oregon 97520

The CE mark is a mandatory European marking for certain product groups to indicate conformity with the essential health and safety requirements set out in European Directives. The letters 'CE' are an abbreviation of Conformité Européenne, French for European conformity. The CE mark must be affixed to a product if it falls under the scope of the approx. 20 so called 'New Approach' Directives. Without the CE marking, and thus without complying with the provisions of the Directives, the product may not be placed in the market or put into service in the fifteen member states of the European Union and Norway, Iceland and Liechtenstein. However, if the product meets the provisions of the applicable European Directives, and the CE mark is affixed to a product, these countries may not prohibit, restrict or impede the placing in the market or putting into service of the product. Thus, CE marking can be regarded as the products trade passport for Europe.
The CE mark is not a quality-mark. First, it refers to the safety rather than to the quality of a product. Second, most quality markings are voluntary opposite to the CE marking, which is mandatory for the products it applies to. CE indicates conformity with mandatory European safety requirements. European conformity is certified by following clear and understandable procedures, the so-called 'conformity assessment procedures'.
All GlideTrak equipment is CE certified.